Home

/

Comfort Ultimate Care Tropical Lily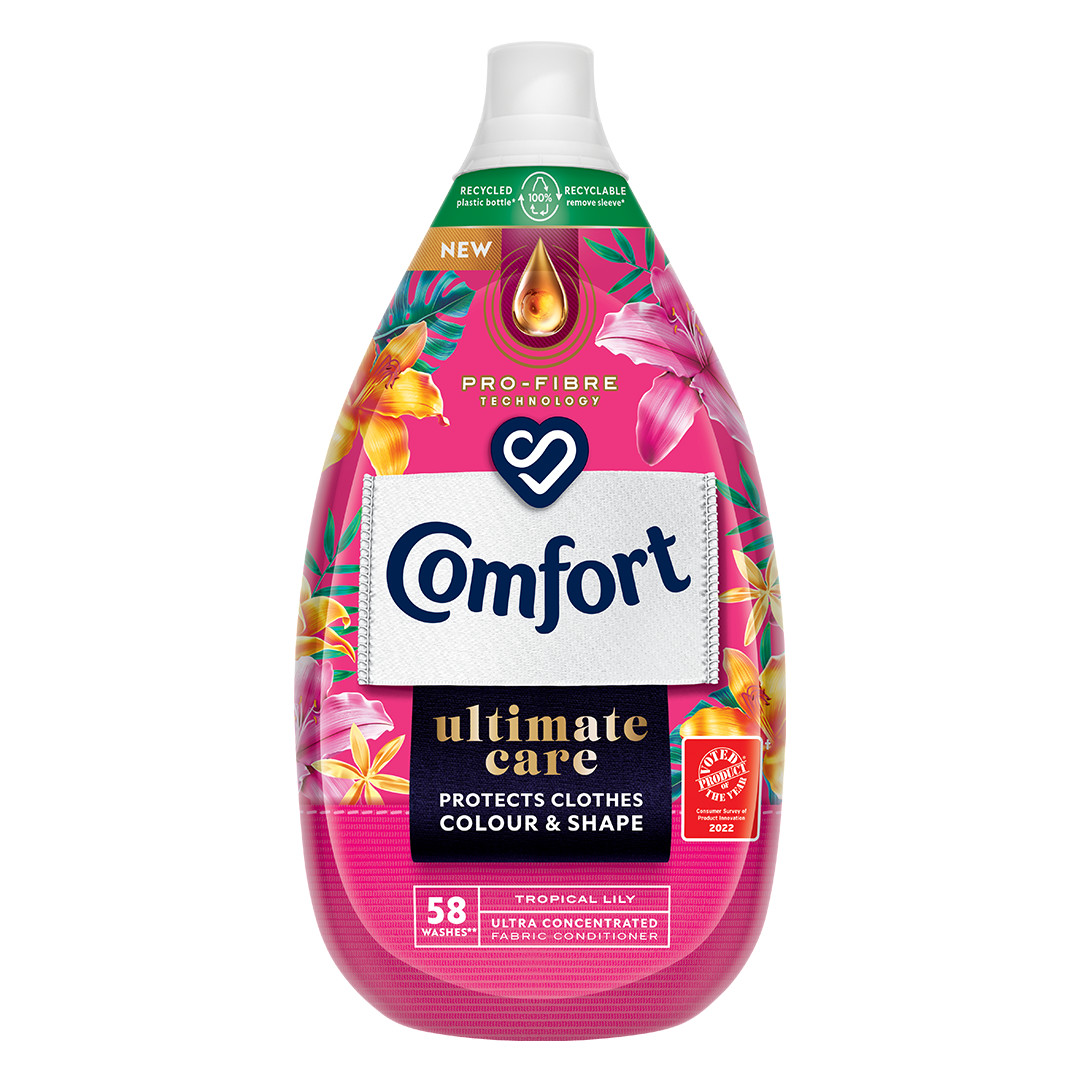 Comfort Ultimate Care Tropical Lily
We know you love your clothes. We love clothes too, and we want to help you to care for them. That's why we've developed Comfort Ultimate Care Ultra-Concentrated Fabric Conditioner which provides complete clothes protection.
Our Ultimate Care fabric conditioner contains a revolutionary PRO-FIBRE technology which penetrates deep down between the fibres of your clothes and helps protect them from damage caused by washing. It helps to protect fibres, helps to lock colours and helps to retain shape in the clothes you love. As well as protecting your clothes, this fabric softener has a long lasting fragrance that delivers intense waves of freshness inspired by the great outdoors, bursting with the fragrance of fruits, flowers and a hint of wood for an extra-fresh smell long after wash.
Comfort Ultimate Care Fabric Softener is also kind to our planet as it comes in a bottle made of 100% recycled plastic* and has an ultra-concentrated formula, which means you can use a smaller dose whilst saving 34% more plastic** with smaller bottles.
Add Comfort to your wash to help protect your clothes and leave you feeling great inside and outside every day. Comfort is the original fabric conditioner in the UK and has been caring for clothes for over 50 years. Together, we can help protect the clothes you love #LongLiveClothes.
Benefits
Comfort Ultimate Care Ultra-Concentrated Fabric Conditioner provides complete clothes protection
Our Ultimate Care fabric conditioner contains a revolutionary PRO-FIBRE technology which penetrates deep down between the fibres of your clothes and helps protect them from damage caused by washing
Comfort Fabric Conditioner helps to protect fibres, lock colours and retain shape in your clothes
The bottle of this Comfort fabric conditioner is made of 100% recycled plastic*
Comfort Ultimate Care Fabric Conditioner is ultra-concentrated – this means you only need a small dose of this fabric softener to help protect your clothes
*excluding cap and spout **compared with other Comfort conditioner bottles